Today only, BestBuy.com offers the
Keurig - K Latte Single Serve K-Cup Pod Coffee Maker - Black
$59.99
Was: $89.99
save $30.00 (33% off)
FREE Shipping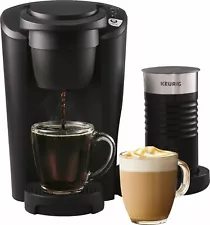 Versatility meets simplicity with the new Keurig K-Latte single serve coffee and latte maker in Black. Brew rich, full-flavored coffee and enjoy delicious, creamy lattes simply made in minutes. Whether brewing coffee or making lattes, the K-Latte brewer works with any K-Cup pod so the options are endless. Use the coffee SHOT to brew a concentrated shot of coffee perfect for making lattes. Froth your choice of fresh milk including skim, soy, and almond to create delicious, creamy lattes. Or, brew 6, 8, or 10oz of your favorite coffee, tea, or cocoa. The frother is designed to be easy-to-clean and the frother base flips up to save counter space. Enjoying your favorite beverages at home has never been so easy - just brew, froth, enjoy! Making a latte in 3 easy steps: 1. BREW a coffee SHOT using any K-Cup pod. 2. FROTH your choice of fresh milk, including skim, soy, and almond. 3. ENJOY your delicious, creamy latte.