Today only, Best Buy via eBay.com offers their
Acer - Chromebook 315-15.6HD- Intel Celeron N4000 - 4GB LPDDR4- 32GB eMMC,- Gigabit WiFi, Bluetooth 5.0
$109.00
Was: $249.00
save $140.00 (56% off)
Free Shipping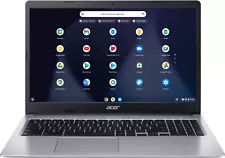 Be dialed inall the time, everywhere and anywherewith the Acer Chromebook 315. Recognized as the perfect multi-media companion, this special machine is super thin, extra light and delivers unmatched value in todays fast-paced, technology-driven world. It features an impressive HDR camera, fast wireless connectivity and a long-lasting battery life, so you can run your favorite Google apps or access your photos, videos, music and documentsall day long.