Today only, Best Buy via eBay.com offers the
HEXBUG - Battlebots Arena Pro
$49.99
Was: $99.99
save $50.00 (50% off)
FREE Shipping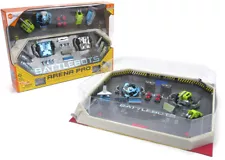 Modeled after televisions hit series BattleBots, comes the HEXBUG BattleBots Arena Pro. Suit up your BattleBot for an action-packed match inside this arena! With over 100 possible configurations, you can experience the excitement that comes with engineering your very own fighting robot.