Today only, Best Buy via eBay.com offers their
Insignia- 33-Lb. Portable Ice Maker - Stainless Steel
$117.99
Was: $179.99
save $62.00 (34% off)
FREE Shipping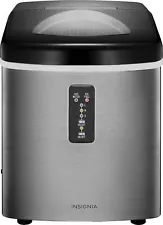 Only at Best Buy Chill drinks at your next party with this Insignia portable ice maker. The compact design fits easily on the counter, while an included scoop and basket make it easy to fill drinks and empty leftover ice. With a freezing time of seven to 13 minutes, depending on cube size, this Insignia portable ice maker ensures you're never out of ice.