Walmart.com offers a great deal on this
Make Me Better Mitts Plush Interactive Pet From Lilly Tikes by Little Tikes
$9.46
Was $24.99
*May be available for free store pickup or get Free 2-Day Shipping on orders $35+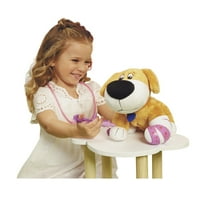 Mitts is a clumsy dog who's always getting into trouble. Lilly and her best friend Ami are always there to make him feel better. Mitts has tons of built-in interactivity: he whimpers when kids give him a booster shot, barks happily when kids pet him, makes realistic heartbeat sounds when kids listen to his heart with the included stethoscope, and has a paw that glows till kids put his cast on. Mitts comes with everything kids need to pretend to take care of him: a booster shot, stethoscope, and cast plus a collar and name tag. Best of all, Mitts' soft, plush pet body makes him so huggable and snuggly. No matter where their imagination takes them (with their scrappy puppy Mitts), Ami and Lilly know that together is the best place to be.
Make Me Better Mitts Plush Interactive Pet From Lilly Tikes by Little Tikes
LISTEN TO HIS HEART BEAT. Kids can hear Mitts heartbeat with the kid-sized stethoscope
HEAL HIS PAW. Mitts paw glows red with a boo-boo until kids put a cast on his paw to make it better
GIVE HIM A SHOT. Mitts whimpers when kids give him a booster shot
PET HIS HEAD. Mitts barks happily when kids pet his head
SOFT and HUGGABLE. Mitts has a soft, plush body
Includes: Mitts stuffed animal pet, booster shot, stethoscope, cast, collar, and name tag
Requires 3 AAA batteries. Install fresh batteries after purchase
Ages: 3+ Years