Walmart.com offers the
KerPlunk Pandas Themed Kids Game for 5 Year Olds & Up
$7.08
$17.99
*May be available for free store pickup or get Free 2-Day Shipping on orders $35+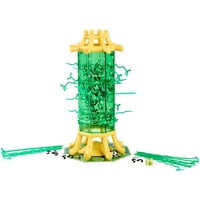 KerPlunk Pandas is a deluxe version of the classic kids' game with falling pandas! The exclusive black-and-white Pandas figures live in a bamboo-themed pagoda-shaped tower. Extra-bendy bamboo sticks make game play more challenging. A base that goes below adds random outcomes depending on where the pandas fall - they may go back in the tower, to another player or out of the game. Rolling the bamboo die tells players which stick to try to remove. Makes a great gift for animal lovers aged 5 years or older. Colors and decorations may vary.
Kerplunk Pandas Kids Game For 5 Year Olds & Up:
Age Range: 5 Years and Up
​KerPlunk Pandas is an easy-to-learn, fun-to-play twist on the beloved kids' game, KerPlunk!
​It's all of the KerPlunk action with a deluxe panda-themed look that kids will love, featuring a pagoda-shaped game unit, adorable panda pieces, bamboo sticks and die!
​To play, take turns rolling the bamboo die and removing a stick with the number of leaves indicated. One leaf is the easiest, three is the hardest!
​Be careful not to let the panda friends tumble, because the player to drop the fewest is the winner! If the panda pieces land on the game piece below, follow the instruction there!
​With simple setup and no reading required, the KerPlunk Pandas game is perfect for young kids and makes a great gift for 5 year olds and up