Walmart.com offers the
CGH Cute Girls Hairstyles Wig with Display Form - Caucasian w/ Straight Hair
$10.00
Was $39.99
*May be available for free store pickup or get Free 2-Day Shipping on orders $35+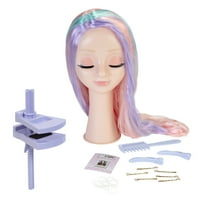 Cute Girls Hairstyles™ is the number one hair styling channel on YouTube, created by expert Mindy McKnight. Using the Cute Girls Hairstyles™ toy line, girls can learn to create numerous styles as seen on the YouTube Channel. With a variety of styling heads, tools and accessories, the Cute Girls Hairstyles™ product line offers an authentic hairstyling experience for kids to enjoy. The Cute Girls Hairstyles™ Caucasian Styling Wig and Display lets you learn to create numerous hairstyles. With superior quality nylon hair you can style the wig over-and-over without compromising its look and feel. The multi-color styling wig can be easily attached and removed from the wig form, so you can wear the hair after styling it to your liking. Included with the styling wig and display are a two-sided comb with fine and wide teeth, two hair clips, eight elastic bands, six bobby pins, a clamp and a tips booklet. The clamp attaches to a variety of tables so when you attach the head it stays in a fixed position for easier styling. Using the tips booklet, you can learn easy, medium, and expert hairstyles, as well as how to care for the wig. With so many different hair styles to learn and create, the Cute Girls Hairstyles™ Caucasian Styling Wig and Display will provide countless hours of fun!
Caucasian styling wig with multi-color, straight hair
Superior quality, nylon hair can be styled over-and-over
Styling wig fits a variety of head sizes
Includes two-sided comb, two hair clips, and other styling accessories
Clamp allows you to attach wig form to a table for easier play
Learn easy, medium and expert hairstyles using the included tips booklet
Adult assembly required (no tools)
Multi-ethnic Styling Wig and Display with wavy hair also available