Today only, Best Buy via eBay.com offers their
j5create - 360° All Around Webcam - White
$59.99
Was: $99.99
Save $40.00 (40% off)
FREE Shipping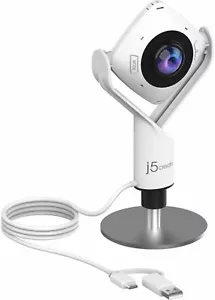 1920 x 1080 Resolution Web camera with 360 degree video.
With the JVCU360, you can enhance your conference calls with 360° video and omnidirectional audio. The 360° camera is plug-and-play, meaning there is no driver installation required. The JVCU360 supports 1080p video playback @ 30 Hz with several different display modes including full screen, all around view mode, host, dual host, single view mode and wide angle view mode.