eBay.com offers this attractive
Pumpkin Natural Leaf Twig Berry Fall Harvest Halloween Thanksgiving Decor 377i
$9.99
FREE Shipping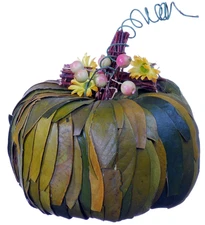 Great Pumpkin made of Natural Leaf, Twig and Berry, 5 inches tall, 7 inches wide, and 100% Handmade, brand new sealed in box.
This decorative Pumpkin was artistically handcrafted with genuine natural Leaf, Twig, Berry and other natural materials on Styrofoam Pumpkin model. The color of leaves is natural dried leaf color, not artificial dyed color. This unique and beautiful Pumpkin would be a great addition for fall, Halloween, Thanksgiving and Holiday season decorations.