Nice Easter Basket filler idea from Walmart.com with this
Twinkle Clay - Princess Studio, Makes Sparkly Air-Dry Clay Creations, for Ages 4 and Up
$11.15
Was $24.99
*May be available for free store pickup or get Free 2-Day Shipping on orders $35+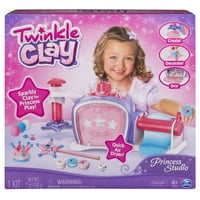 Turn soft and sparkly clay into special creations fit for a princess with the Twinkle Clay Princess Studio! Twinkle Clay?s wonderfully soft and sparkly texture makes it easy for little hands to mold. It perfectly stretches into any shape! Twinkle Clay even has a delightful light scent, perfect for a little princess! Make a sparkling princess crown, star wand, ring, cake and more with the Princess Studio?s included pink, white and blue Twinkle Clay! Use the Princess Studio?s stations and easy-to-use tools to roll, stamp, shape and decorate anything you can imagine! Roll a ball of Twinkle Clay, and check the size with the helpful clay ball template. Put the ball through the roller station to flatten your clay, clip on the star or crown cutter and stamp your shape with the stamper station! Next, add other Twinkle Clay details like hearts and stars with the decorating tools, and add a gem or two for extra sparkle! You can even mix colors of Twinkle Clay together to create a pretty new color, or blend together for a marbled or gradient effect. Once you?re finished, use the spatula to place your creation into the air dryer. Push the start button and wait 30 minutes for your creation to magically air-dry, or leave it to fully dry overnight ? no heat required! When your creation is finished drying, it?s ready for play! Make and play with beautiful princess creations with the Twinkle Clay Princess Studio!
QUICK AIR DRYER: Air-dry clay without heat! The Princess Studio?s air dryer magically dries creations in 30 minutes with the push of a button, or you can leave creations overnight to fully dry. Once creations are dry, they?re ready for endless princess play!
EASY-TO-USE STATIONS & TOOLS: The Princess Studio?s roller and stamper stations make it easy to create with Twinkle Clay! Put a ball of Twinkle Clay through the roller to flatten, stamp a crown or star with the stamper, and decorate creations using two double-ended decorating tools.
EVERYTHING YOU NEED: Make everything you need to be a princess! The Princess Studio includes 3 colors of Twinkle Clay and all the accessory pieces (a ring, magic wand and hair clip), cutters, molds and tools needed to create a beautiful sparkling princess crown, star wand, ring, cake and more!
The Twinkle Clay Princess Studio makes a great gift for creative and imaginative girls aged 4 and up. Requires 2xAA batteries (not included).
WARNING: CHOKING HAZARD - Small parts. Not for children under 3 years.