Take your choice of 2 styles of these CUTE & HANDY critters
Leak Bug or Leak Puppy Flood Alarm Sirens - Detect as Little as 1/32" of Water
$22.99–$36.99
Free Shipping for Prime Members when you Log in with Your Amazon Account info. or pay $6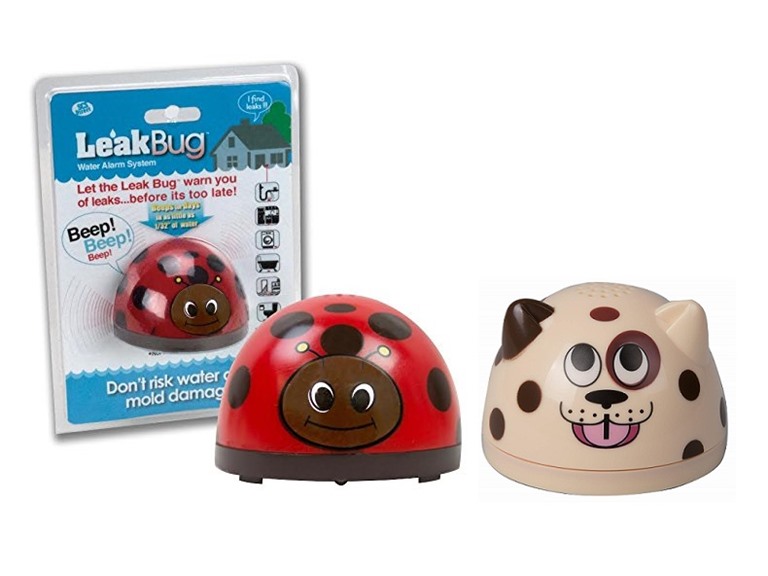 Protect your home from water damage and mold with the Leak Bug and Leak Puppy Water Alarm Systems. These water alarms may be adorably designed, but state-of-the-art technology ensures these water alarms will detect leaks as small as 1/32 of an inch. Save yourself thousands of dollars in potential water damage and give yourself peace of mind. The Leak Bug and Leak Puppy will alert you to the first signs of any leak before the damage turns to mold or worse.
Water Alarm - The Leak Bug and Puppy finds leaks before costly damage occurs to your home.
Water Detector Alert - Highly sensitive sensor beeps loudly when as little of 1/32 inch is detected. Alarm will sound up to a week with direct water contact.
Leak Alert - The Leak Puppy beeps when the batteries are low so your home is never at risk. Battery-operated, no wiring required.
Flood Detector - Put multiples around the house in bathrooms, laundry rooms, in the kitchen by the dishwasher or under the sink, in the basement or garage by the hot water heater and sump pump, etc.
Batteries Included (Two AAA)
Shipping Note: Shipping to Alaska, Hawaii, or APO addresses is not available for this item.
Warranty: 90 Day Woot Limited Warranty