Walmart.com offers this handy
Farberware Soft Grips 2 Black Stainless Steel Flavor Injector Set
$7.31
was $19.50
Free store pickup or Free 2-Day Shipping on orders $35+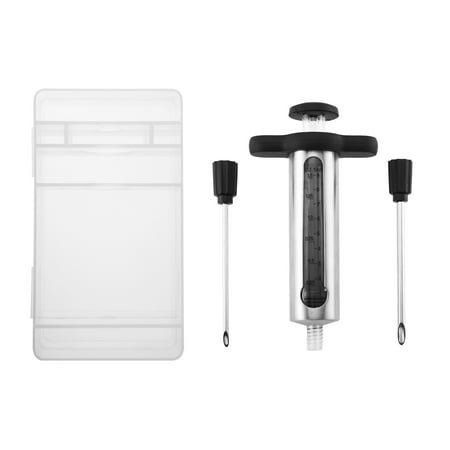 Flavor injector is excellent for adding flavor and zest to your favorite foods
Stainless steel body and soft comfortable-grip plunger
Inject meat, poultry, fish, roasts, fruits and pastries with spices, stock, wine, liqueurs, fruit juices and bottled marinades
Dishwasher safe for simple cleaning
Meat injector comes with a lifetime-limited warranty against defects
Founded over 100 years ago, the Farberware® name has stood for value, quality and durability
This commitment to the customer continues to this day. All of the Farberware family of products are designed with the consumer in mind and manufactured to the highest standards.
Farberware offers a complete line of tools and gadgets, from classic to contemporary, for all of your food preparation tasks. With everything from a set of measuring spoons for precise cooking to an odor-absorbing splatter screen that protects you from splatters and cooking aromas, Farberware tools and gadgets are designed to make cooking enjoyable and efficient.

Farberware Soft Grips 2 Black Stainless Steel Flavor Injector Set : 5088273
This Farberware Soft Grips Meat Flavor Injector lets you add delicious marinades directly into the meat before, during and after cooking. Simply fill the tube with your favorite marinade or sauce and inject it right into the meat. Made dishwasher safe for easy cleaning, it is easy to maintain. This marinade injector is ideal for meat, poultry, fish, roasts, fruits and pastries. It can be used to inject spices, stock, wine, liqueurs, fruit juices and bottled marinades, too. The meat injector features a durable stainless steel body that is designed to withstand the test of time. A comfortable, soft-grip plunger helps to make inserting and dispersing fluid quick and easy.
Perhaps the most widely respected of all kitchen brands, Farberware represents high-quality, classic styling and affordability in products you can trust. Immediately recognized as America's houseware brand, today Farberware includes a wide range of kitchen products including tools and gadgets, cutlery, cutting boards and pantryware.