Today only, Llbean.com offers their
Women's Wicked Good Camp Moccasins
$79.00
now $44.99
Save $34.01 (43%)
FREE SHIPPING with $50 Purchase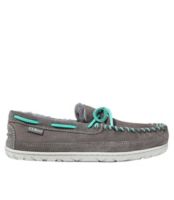 Unlike similar-looking imitations, our women's fur-lined moccasins are made of superior sheepskin to keep your feet warmer on chilly mornings.
Why We Love Them
With over 4 million pairs sold over the last 5 years, it's clear customers think our Wicked Good Slippers deserve the title of Best Slippers Ever Made. They make such a great gift that we sell a pair every 7 seconds during our peak in December. Why are they so popular? There are a few reasons but at the top of the list is the most cozy shearling you can find. Throw in superior construction using premium sheepskin and you'll know why in Maine, "Wicked Good" is as good as it gets.