Walmart.com offers this fun
Kid Connection Car Transporter, 3 Pieces
$7.00
was $14.97
Free store pickup or Free 2-Day Shipping on orders $35+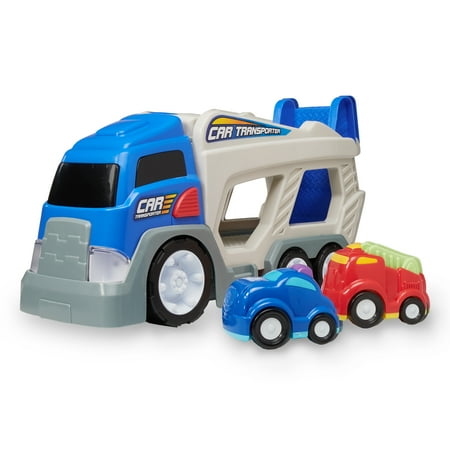 Kid Connection Car Transporter comes with a transporter truck and two vehicles to load up. A button on the transporter's door activates lights and delightful music. A ramp at the back of the transporter lowers so you can guide the included free-wheeling vehicles onto the truck. The upper level can be lowered, too. A lever on the side of the transporter raises the bottom deck of the transporter so vehicles can be unloaded with ease. You can pretend you are behind the wheel of a big truck on its way to deliver vehicles in another town. This truck is suitable for kids ages 18 months and up and it comes with batteries included. Imagine where you can go with the Kid Connection Car Transporter.
Kid Connection toys are kid approved and built for fun. Easy to understand with no complicated instructions, these durable toys keep you and your children happy. Day after day, smile after smile.
Kid Connection Car Transporter, 3 Pieces:
Ages 18 months and up
Lights and sounds
Moving parts
Batteries included