GREAT gift for Father's Day! Walmart.com offers the
Meguiar's DA Power Pack Ultimate Liquid Wax and Waxing Pad
$6.57
Was $12.27
Free store pickup or Free 2-Day Shipping on orders $35+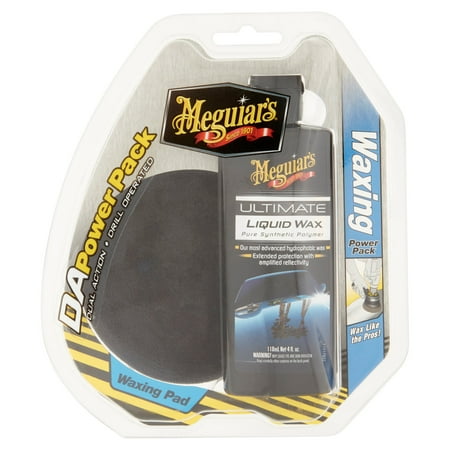 Achieve professional looking results with Meguiar's DA PowerPak Wax. The liquid formula is made of pure synthetic ingredients. It makes the task at hand both easy and fun. All you need is a corded household drill to get started. In just 30 minutes it will give you the show-room shine and brilliant reflections that an auto enthusiast seeks. Plus, it offers added protection against the elements making your vehicle look good, longer. This liquid car wax is easy to use and will not damage the clear coat paint. It allows you to decrease the amount of time it takes to improve the overall appearance of your car. Meguiar's DA PowerPak Wax comes with a waxing pad and complete instructions.
Meguiar's DA PowerPak Wax:
Add protection, shine and brilliant reflections in 30 minutes or less
Pure synthetic wax
Meguiar's wax provides results that look professional
Bridge the gap between hand and machine polishing
Works with any corded household drill
Will not damage clear coat paint
Meguiar's G3503 DA waxing power pack includes a waxing pad, liquid wax and instructions
Directions:
Instructions: . Directions: Shake well. Work on a cool, clean surface in the shade. 1. Attach the pad to your Meguiar's DA Power System. 2. Apply Meguiar's Ultimate Wax directly onto the waxing pad. 3. Place the face of the pad flat against the surface of the car. Turn the drill on and apply wax to one panel at a time. 4. Let dry for 3-5 mins. Wipe off with a clean microfiber towel, turning to a clean side for the final wipe.